​
[NEWS]
Increase of EP qualifyingmonthly wage witheffect from 1st May 2020
The Ministry of Manpower (MOM) has announced that there will be an increase in the minimum monthly wage for new EP applications with effect from 1st May 2020.
New EP Application Qualifying Factors:
JAC Singapore has checked the changes to the minimum monthly wage for EP applications using the Self-Assessment Tool (SAT) that is available on the MOM website.
The minimum monthly wage to qualify for EP will still depend on candidates' academic backgrounds and ages.
There are two major changes as follows:
1. Increase of bottom-line and ceiling of minimum monthly wages to qualify for EP.
2. Reclassification of some academic institutions into different categories.
■ In regard to Point 1, the bottom-line monthly wage (fresh graduates, 23 years old) will be increased to S$3,900 (from S$3,600).
As for the ceiling, in addition to the monthly wage, age eligibilities will also be increased. In general, the amount would be an increase of S$1,000 per month.
■ In regard to Point 2, Japanese academic institutions have been consolidated into 3 categories (from 4 categories).
Renewal of Existing EP:
Changes to the renewal of existing EP will only be effective from 1st May 2021.
As of now, we have summarised the changes only for Japanese, Chinese, Korean, and Indonesian nationals.
We will monitor any changes that may occur in the near future, and update our Valued Partners again.
We advise everyone to use the Self-Assessment Tool (SAT) provided by MOM before making any new EP application(s).
SAT Chart for 3 Nationals

​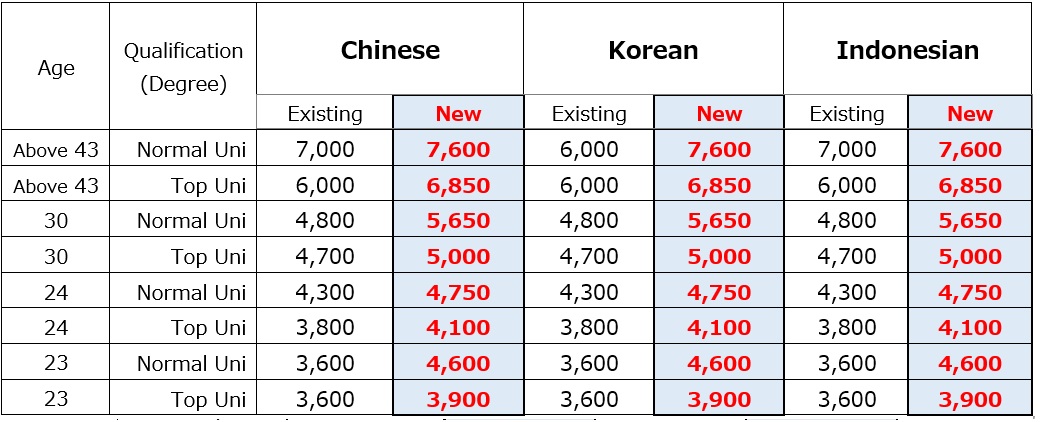 ​

【Remarks】
*This chart does not represent the approval of EP applications.
*Please also note that this chart is compiled by JAC Recruitment using the SAT, and is not an official result by MOM.
SAT Chart for Japanese Nationals

​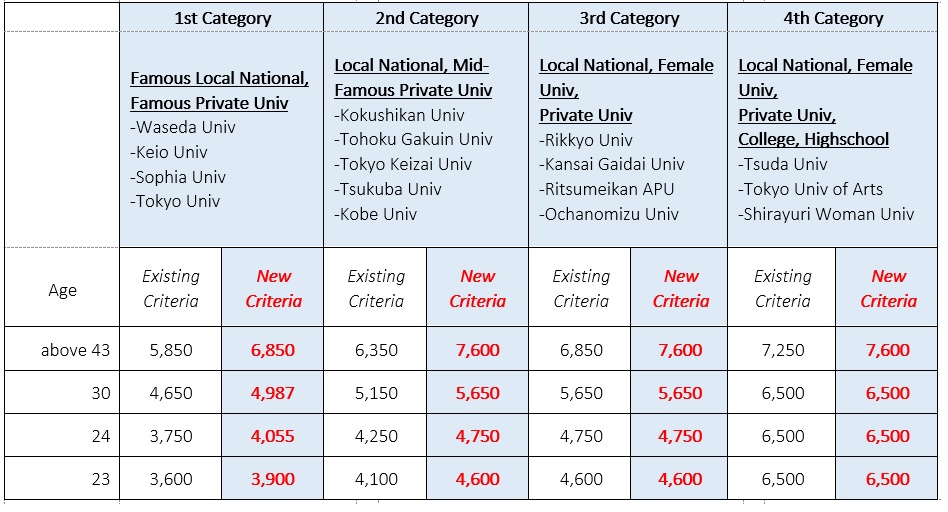 ​

【Remarks】
*The above categories are grouped by JAC Recruitment.
*University categories are subjected to change without prior notice by MOM.

Self-Assessment Tool (SAT):
http://www.mom.gov.sg/eservices/services/employment-s-pass-self-assessment-tool
*Should you have any enquiries, please feel free to reach us at jac@jac-recruitment.sg
​